Introducing the Beretta SO Sparviere 'Rocky' shotgun: a one-off creation by the craftsmen of the Pietro Beretta Custom Atelier for movie icon Sylvester Stallone. A unique tribute to his acting career and to the legendary role of the Italian American boxer he's been playing since 1976.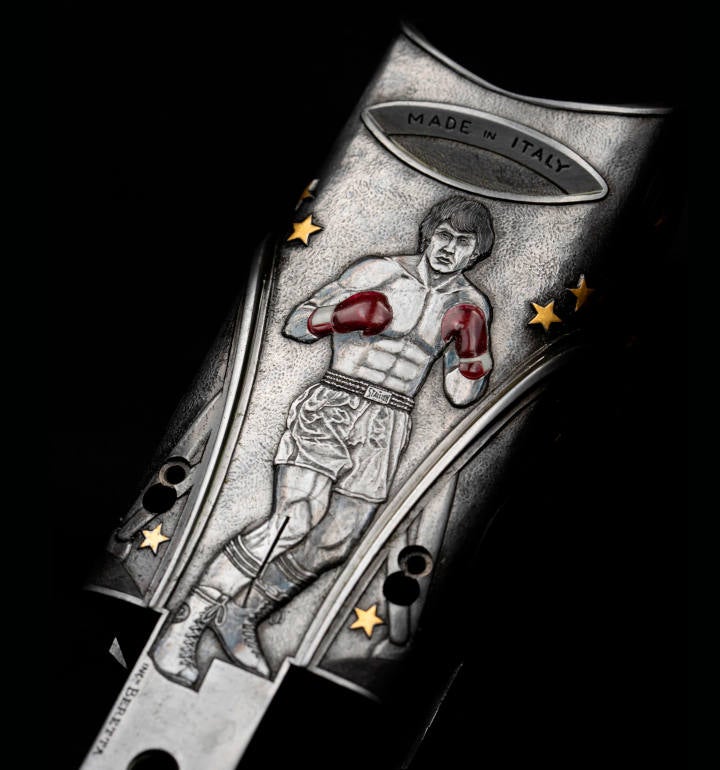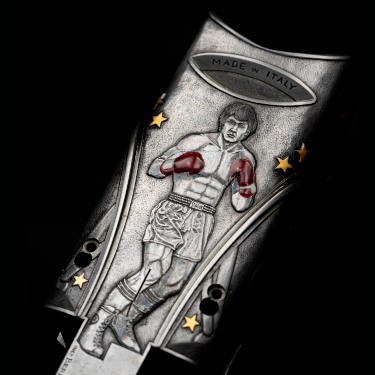 The shotgun engraving required between 800 and 900 hours of work. Beretta engravers, carrying a centuries-old tradition, employed a number of different of techniques to bring to life this masterpiece. These include deep hammer and chisel, to reproduce two of the most memorable scenes from the Rocky movie saga; gold-inlays are also there, to recreate the Academy Award Oscar on the auget button, the stars, the numbers of the movies on the top of the receiver and Sylvester Stallone's signature on the stock; colored enamels were employed to recreate the USA flag and add other details, such as Rocky signature boxing gloves.
The total absence of visible screws of the SO6 Sparviere sideplates gives the engraving an uninterrupted blank canvas to express its full beauty. Even the visible internal parts are superbly finished and engraved by hand: for this unique piece, the sideplates features on the inside an enamelled turtle, the pet Sylvester Stallone had in the Rocky movies and that he still keeps at home today.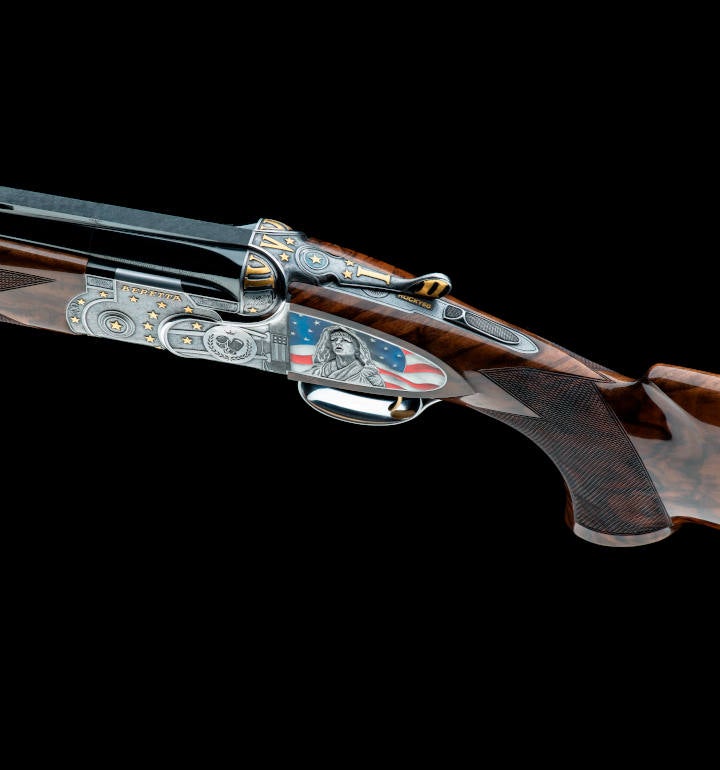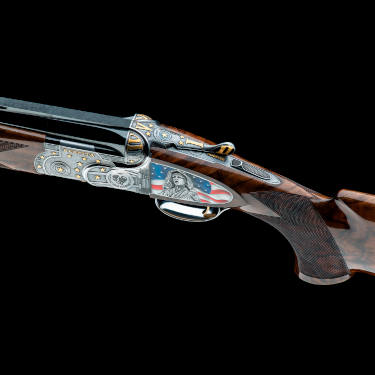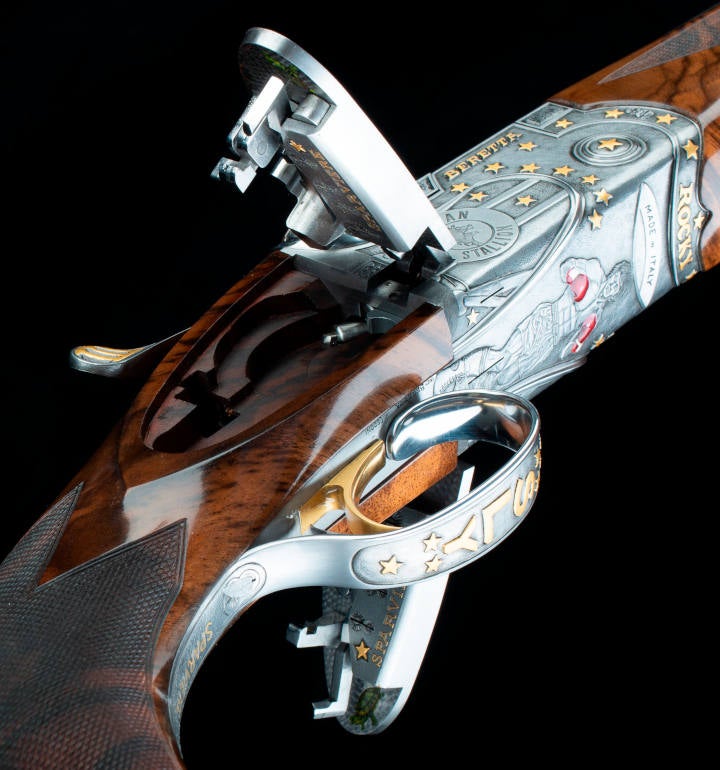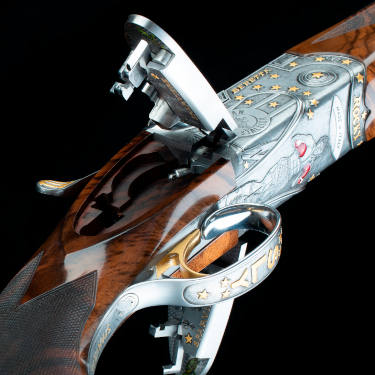 The Beretta SO Sparviere (Italian for "sparrow hawk") shotgun features a unique system to open the two sideplates and access to the inside firing mechanism. The classic Beretta sidelocks can be easily and rapidly break open to the side, by actioning the safety/barrel selector. Past the safety position of the switch, the two sideplates simultaneously snap into the open position, facilitating inspection and maintenance of the locks. 
The robust construction of this premium shotgun was the perfect canvas for a bold engraving, featured by deep relief, gold inlays and enamels. This tribute gun was conceived to encapsulate the emotions of the Rocky movies' saga: each element was carefully designed and placed on the action and other shotgun parts, with a view to create a meaningful work of art. The leather guncase as well is entirely handmade by our artisan, to match the uniqueness of this masterpiece shotgun.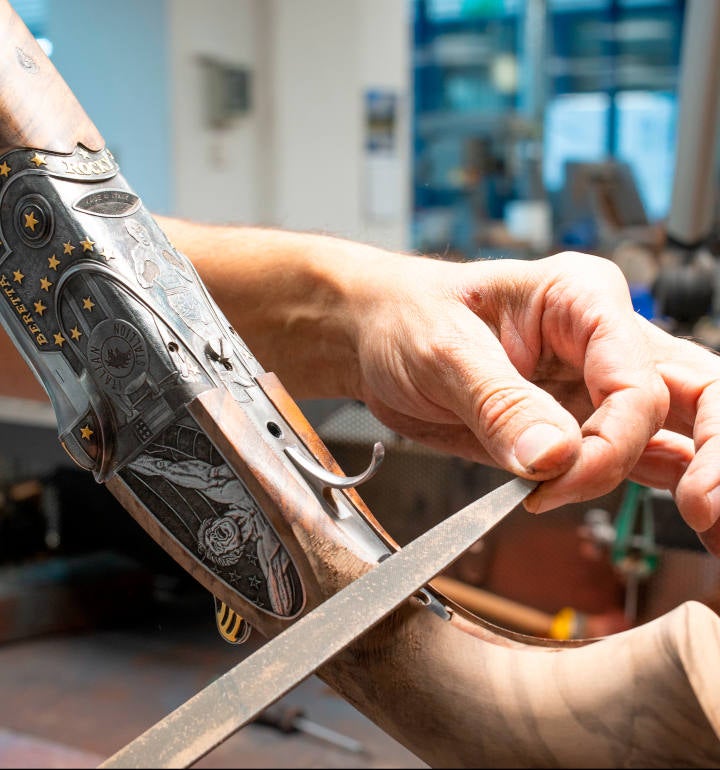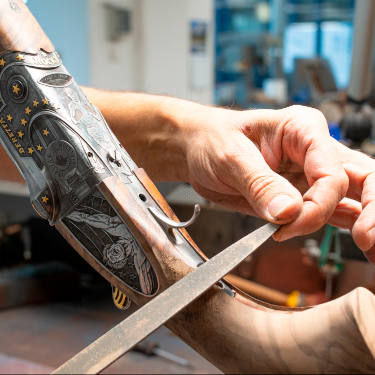 Given its uniqueness, the Beretta SO Sparviere 'Rocky' shotgun required an equally unique guncase, entirely handmade by our artisans at the Beretta Custom Atelier. It features gullwing sides that recall the opening mechanism of the celebrated SO Sparviere sideplates. This precious leather-covered case features a pyrographed portrait of the famous actor, with the USA flag background, as well as some of the most famous scenes from the Rocky movie saga.