Easily removable internal metal frame, interchangeable polymer grip, easy to disassemble and maintain. Slide, barrel, springs and spring guide, frame, magazine: disassembling a gun has never been easier. So is customizing it: the removable, serial numbered internal metal frame allows the polymer external frame to be replaced with others of a different color. Also, there is a backstrap for every hand shape: three interchangeable backstraps are included.
The optimal angle of inclination allows a quick and instinctive aiming. The ergonomics of the beaver tail accommodate and protect the shooter's hand like never before. In designing the APX, Beretta focused on maximizing the comfort in use: the slim design, free of sharp angles, ensures extremely convenient carry and extraction from the holster. To facilitate left-handed shooters, the magazine release button is reversible. Three white dots promote fast target acquisition. Sights can be removed and replaced by other devices.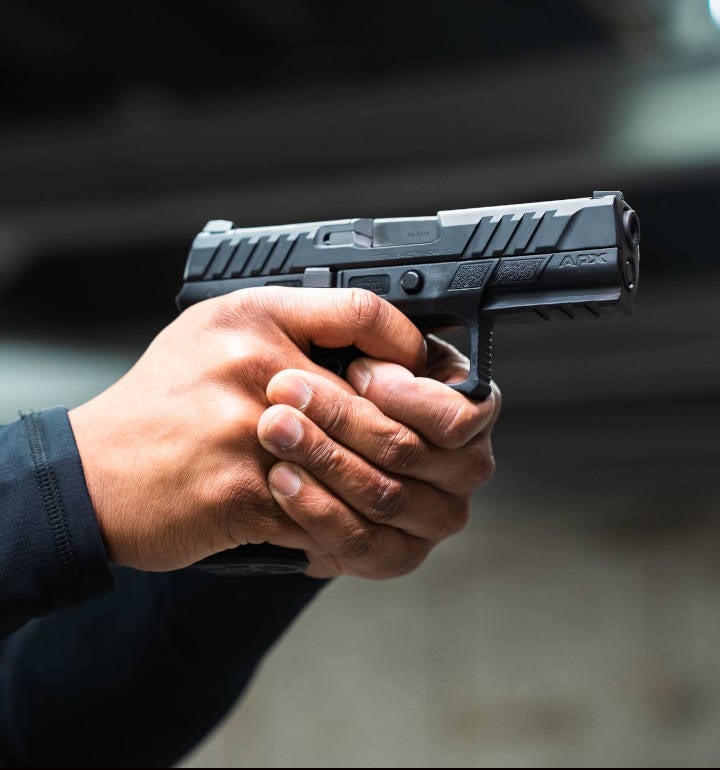 Beretta never compromises on safety: the device located on the trigger prevents unintended firing, even if the pistol is dropped. APX has an internal firing pin deactivation device that prevents it from moving unless the trigger is fully pulled. The bolt locking system keeps the slide open after firing the last round: the user can easily realize he has no more rounds in the magazine. Beretta APX pistols have a unique feature that allows the user to deactivate the firing pin before disassembly without pulling the trigger.
Aqua Tech Shield coating ensures greater resistance to corrosion and wear.
The aggressive serrations on the slide ensure full control on the slide movement, in all conditions.
The slide allows easy mounting of the red-dot, as well as a wide range of other optics for training and home defense, in order to ensure faster target acquisition when it is most crucial.
Ambidextrous controls can be set for right- or left-handed shooters: slide and magazine release can be easily customised.
Ergonomics designed for a full and consistent grip, including a higher trigger guard, an improved beaver tail and modular grips to adjust trigger pull and hand palm fitting, to maximize the contact surface, and achieve a higher grip for a more natural shooting position and better recoil control.
Grip texture designed for perfect control.
Crisp trigger with shorter and lighter trigger pull for a short reset.